Facials
Detox Facial…Natural herbs are used to draw out impurities leaving a healthy, glowing skin.1 1/2 hours long… $100
Antioxidant Infusion Facial…Replenishes textures, tone and evens out skin tone. Repairs environmental damage.1 hour long… $95
AgeDefying Facial…Refines skin texture, smooths lines and wrinkles. Tightens and tones the skin.1 1/2 hours long… $130
Oxygen Facial…Liquidized oxygen is used to purify and revitalize.1 hour long… $100
Men's Facial…Deeply cleans and restores skin leaving it refreshed and radiant. Soothes skin affected by shaving and sun exposure. (Allow at least one hour between shaving and receiving this treatment.)1 hour long… $80
Acne Facial…Intensive cleansing, steam and extractions.1 hour long… $90
Customized Facial…Time and price may vary. Consult with our esthetician.
Organic Facials Available
State of the Art Facility for Skin & Spa Treatments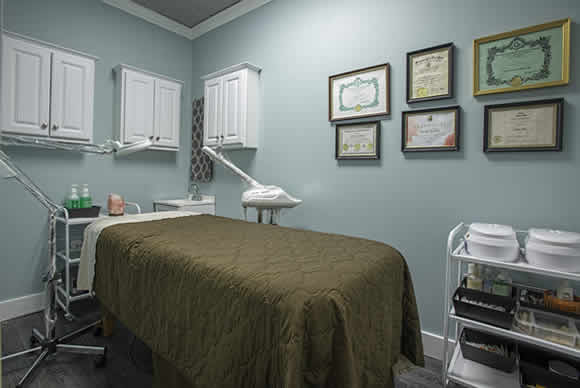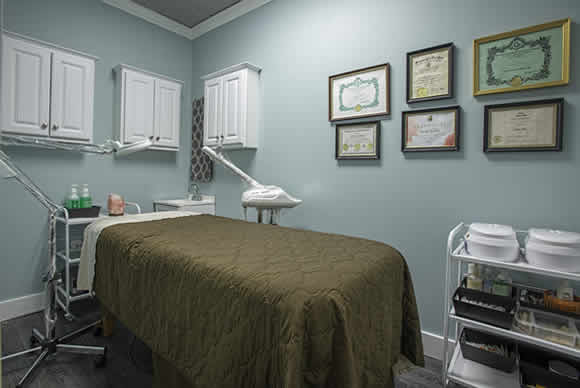 Treatments
Series of Six 1/2 Hour Long Treatments, $250 per Series
Glycolic Treatment…Designed to smooth and soften dry, mature or sensitive skin. Helps restore balance and minimize hyperpigmentation.
Enzyme Treatment…For acne, oily or clogged pore skin types. Fruit enzymes dissolve excess buildup and slightly dialte pores for easy extractions.
Antioxidant Treatment…Through the infusion of antioxidants this treatment increases hydration and firmness. Provides the skin with instant glow and vitality. Aids in the protection against environmental damage.
Please Note:
Our relaxing environment is designed for adults. Please understand that we cannot accommodate children during your treatment.
Should you need to cancel your appointment, please give the courtesy of 24 hours notice to avoid a missed appointment fee.
Please arrive 15 minutes early for spa services.
We Welcome your suggestions and comments to help us to serve you better.